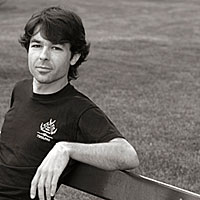 Xavier HLAVACEK
Founder of "Le Lotus Blanc®"
, Instructor and Registered Thai Therapist, Xavier began to study martial arts when he was 8 years old and has been studying Karate-Do during 10 years, as well as an interest in yoga. As a teenager, he met many people involved in the esoteric world and spiritual practices, so all these conditions led him to get more and more interest for energetic practices.
In 1998 he became interested in Chinese internal arts such as Qi Gong and Tai Ji Quan which he has been teaching during 9 years in Poitiers, France. In the early 2000 years he discovered the traditional massage techniques and became enthusiastic about Korean Relaxation and Traditional Thai Massage. Since his first journey to Thailand in August 2006 and his meeting with ″Coocky″ Tassanee Boonsom, he is mainly specialising in the practice and teaching of Traditional Thai Massage as well as in Abdominal Detox Massage, also known as Chi Nei Tsang. There he attended several schools internationally renowned such as the Old Medicine Hospital, Sunshine Massage School and of course
LoiKroh Traditional Thai Massage & Yoga
.
Between 2008 and 2014 Xavier mainly lived in Chiang Mai where he co-directed
LoiKroh Traditional Thai Massage & Yoga
with Coocky and taught there to many students coming from different countries. During that time, he has also completed several courses of OsteoThai with David Lutt, and has begun to study Kundalini Yoga with Siri Shabad Singh.
Today Xavier is trained in the specific technique of Karsai Massage (also known as Karsai Nei Tsang) with Coocky, and continues his journey in Traditional Thai Massage and OsteoThai with Arno L'Hermitte.
Xavier Hlavacek is the official representative in France of
LoiKroh Traditional Thai Massage & Yoga
, massage school based in Chiang Mai, Thailand.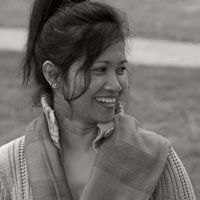 Tassanee BOONSOM "Coocky"
Owner and founder of LoiKroh Traditional Thai Massage & Yoga School
in Chiang Mai, Thailand, Coocky is one of the most experienced specialists in Traditional Thai Massage, Abdominal Detox Massage (also known as Chi Nei Tsang) and Karsai Massage (also known as Karsai Nei Tsang).
Tassanee Boonsom has trained with and learned from many different teachers. She studied nerve touch or
"jap sen"
with her first teacher Mama Lek Chaiya on Thapae Road in Chiang Mai. Then she searched for more schools to study at and completed several more courses with Pichest Boonthumme, Ithidet Manarat "Poo", at the Old Medicine Hospital, the Health Care Department of Thailand, and Wat Po to name a few.
Tassanee Boonsom has also studied several times at Tao Garden: Chi Nei Tsang with Master Mantak Chia and Jutta Kellenberger, Chi Kong and Tai Chi with Master Li Hechun, and Karsai Nei Tsang with Khun Nom and Khun Ni. In the same way Coocky studied self-development with Khun Jasmine at Pothiyalai, Ashtanga Yoga with William at Yogasala and practiced meditation at Wat Rampoeng in Chiang Mai. She has been practising Reusi Datton (traditional Thai yoga), for many years and recently she has begun to study Kundalini Yoga with Siri Shabd Singh.
Coocky has travelled overseas since 2003, including Japan, Switzerland and Italy, to promote and teach Traditional Thai Massage and Abdominal Detox Massage. Since 2014 she regularly visits France to support Xavier Hlavacek's massage school based in Poitiers.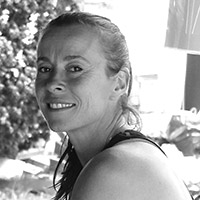 Anne-Sofie LAIDAIN
Both practitioner and trainer in Oil Thai Massage
, Anne-Sofie started her energetic art learning through Aikido in 1997. Aikido she is still learning nowadays, after 20 years of dancing practice. As well as these practices, Anne-Sofie discovered and fell for Iyengar Yoga through the teaching of Orla Punch while she was living in Ireland. All these different experiences made Anne-Sofie develop a deep interest and understanding of the body. Body that she tries to apprehend and comprehend through massage as well as energetic healing techniques. After different training experiences, Anne-Sofie realized that all these holistic ways to relax and ease down minds and bodies were the path she wanted to take.
After spending 15 years in Ireland she came back to France in 2011. This is when and where she met Xavier Hlavacek and decided to train by his side, spending the time needed to go deeply into the understanding, the practicing and to master properly her knowledge. Since 2019, Anne-Sofie is also trained and certified Shiatsu practitioner. Teaching she learned with Antoine Cloutour in Poitiers. Up to these days, Anne-Sofie is specialized in Oil Thai Massage, Chair Massage as well as Shiatsu for both individuals and companies.